Property Maintenance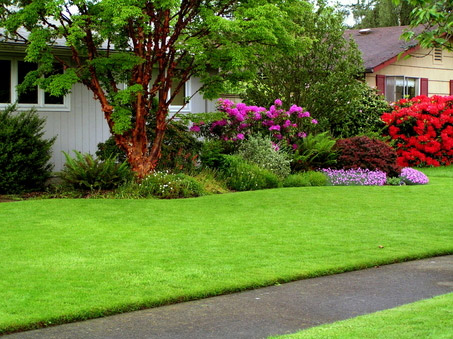 We are proud to offer executive quality, complete property maintenance by our friendly and communicative crew.
We offer spring clean-up and system start-up, lawn and plant care, irrigation repairs, pruning, tree-staking, fertilizations, weed-control and pond maintenance along with autumn clean-up and winter shut-down. Our staff arborist is available to consult on a variety of issues, including tree care, disease/pest solutions, hazard concerns, pre-construction consultation, tree-appraisal and more.
Maintenance
The need for Landscape Maintenance
Even the grandest, most elegant garden on the planet can never be consistently perfect without maintenance. That's why we cannot rightfully claim to be the best landscape contractor if all we do is design and install. Providing property maintenance services is a sign that when we design and install, we always think about the possible keep-up needs. So after designing and installing a landscape, our partnership will never be over yet because we offer all the maintenance services that your landscape will ever need.
Seasonal Clean-Up
Winter chill leaves everything frozen. But when the cold is out, that's when lawn maintenance should start. Leaves have fallen, shrubs have undesirably grown, some plants are dead, weeds are out of control, soil is sick, and a lot of debris and garbage are just floating around the area. Our spring clean-up service will put everything in shape in a jiffy. We do this in variety of ways but the goal is always the same - clean up the mess left by winter and prepare the area for the lovely summer season.
When the summer season is out, then the cooler autumn will set in. This leaves a lot of cleaning to do, too. Falling leaves and flowers might completely cover the beautiful grasses without the regular lawn maintenance. But the most important to do during autumn is the winter shut-down. This is a special landscape maintenance aimed at preparing everything in the site for the chilling winter.
Lawn and Plant Care
Some landscape maintenance tasks are not done by the season but by the need. More than anything else, plants will require utmost attention. They need to be regularly fertilized so they can continue growing and be strong enough to stand against the harshest challenges of nature. Too much fertilizing might lead to weed growth, though. No worries about that because we can take care of the weeds without damaging the important plants in the landscape.
Tree care is yet another important plant maintenance service. Our company has certified arborists to safely and effectively solve any of your tree problems. Solutions often includes pruning in case some parts of the tree are damaged or need growth booster. Tree removal may be a sad choice, but this is often recommended for ill or dead trees. Tree staking can be the better option for young trees and reparable damaged trees.
Other Maintenance Services
We do more maintenance services than just the seasonal ones and those that are focused on plants. Our team is also trained and skilled in doing irrigation repairs. Why not? Among our best services is designing and installing irrigation systems. We sure know how to turn a broken system into a completely working one.
Although irrigation repairs are quite complicated, pond maintenance is even more complicated. That's because an entire ecosystem is thriving in there. One wrong move and fishes or plants might die. We do this kind of maintenance not only for ponds but for other water features, too.
Honestly, our landscape maintenance services are so diverse to even fit in this page. Just tell us what your property needs and we can recommend the best service for that. Better yet, let us survey your landscape so we can determine what property maintenance it needs. Never delay maintenance. Contact us. Maybe your outdoors badly needs more than just the usual lawn maintenance.